Belarus
Flag:
Location: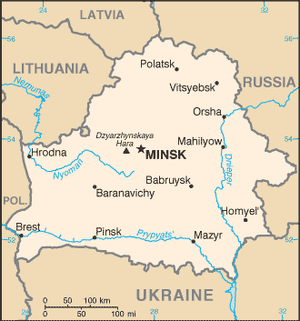 Capital: Minsk
Official Language: Belarusian, Russian
Government: Presidential republic
Head of State: (leave this blank for players)
Formation: December 25, 1991 (Completed, Declared before this)
Population: 9,689,800 (2008 estimate)
Currency: rouble (BYR)
Human Rights Record
Human Rights in Belarus
Territorial Disputes
Territorial Disputes of Belarus
Ongoing Conflicts None
Welcome to the international embassy of Belarus! (Player added remarks)
Diplomatic Relations
Edit
Nation currently enjoys diplomatic relations with (List)
Nation is a member of (List)
Nation is a signatory to the following treaties (list)
//We will do this bit later, just have the template up so we can do it.
Belarus is a landlocked country in Eastern Europe, bordered by Russia to the north and east, Ukraine to the south, Poland to the west, and Lithuania and Latvia to the north. Its capital is Minsk; other major cities include Brest, Grodno, Gomel, Mogilev and Vitebsk. A third of the country is forested, and its strongest economic sectors are agriculture and manufacturing.
Most of Belarus's population of 9.85 million reside in the urban areas surrounding Minsk and other oblast (regional) capitals. More than 80% of the population are native Belarusians, with sizable minorities of Russians, Ukrainians and Poles. Since a referendum in 1995, the country has had two official languages: Belarusian and Russian. The Constitution of Belarus does not declare an official religion, although the primary religion in the country is Russian Orthodox Christianity.
Brief History
Edit
Until the 20th century, the Belarusians lacked the opportunity to create a distinctive national identity, since the lands of modern-day Belarus belonged to several countries, including the Duchy of Polatsk, Grand Duchy of Lithuania, the Polish-Lithuanian Commonwealth, and the Russian Empire. After the short-lived Belarusian People's Republic (1918–19), Belarus became a constituent republic of the Soviet Union, the Byelorussian SSR.
The final unification of Belarusian lands within its modern borders took place in 1939, when the ethnically Belarusian lands that were part of interwar Poland were annexed by the USSR and attached to the Soviet Belarus. The territory and its nation were devastated in World War II, during which Belarus lost about a third of its population and more than half of its economic resources; the republic recovered in the post-war years. The parliament of the republic declared the sovereignty of Belarus on July 27, 1990, and following the collapse of the Soviet Union, Belarus declared independence on August 25, 1991. Alexander Lukashenko has been the country's president since 1994. During his presidency, Lukashenko has implemented Soviet-era policies, such as state ownership of the economy, despite objections from Western governments. Since 1996, Belarus has been negotiating with Russia to unify into a single state called the Union of Russia and Belarus.
Diplomatic Messages
Edit
(Please post them here)
Resources
Edit
Community content is available under
CC-BY-SA
unless otherwise noted.