Spain
Flag: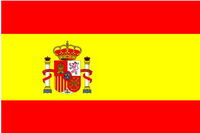 Location:
Capital: Madrid
Official Language: Spanish (Castilian)
Regional Languages: Aranese, Basque, Catalan/Valencian and Galician
Government: Parliamentary democracy and Constitutional monarchy
Head of State: King Juan Carlos I
Formation: 1469
Population: 45,200,737 (2008)
Currency: Euro (€) EUR
¨Human Rights Record¨ Wikipedia article
¨Territorial Disputes¨ Spain claims joint sovereignty over the British colony of Gibralter and Morocco claims the Spanish enclaves of Ceutaand Melilla also Portugal and Spain dispute the ownership of; The Exclusive Economic Zone around the Savage Islands, Olvienza and Táglia
¨Ongoing Conflicts¨ Spanish troops in Afghanistan number up to 780 as of September 2008. The collective Spanish military contribution to ISAF is known as ASPFOR XVII. Spanish forces are divided between Herat Province, where they form a quick-reaction force, an instructors team for Afghan National Army training and a Combat Search & Rescue unit; and Badghis Province, where they lead PRT Qala-i-Naw. The deployment involves infantry, a transport helicopters unit, and a logistics component. Spanish soldiers, like their German and French counterparts, are constrained by caveats. The mandate issued by the Spanish Parliament, does not allow Spanish forces to take part in the battle against the Taliban insurgency in the south and east of Afghanistan. Spain has rejected for three times to lead ISAF when for shift it corresponded to he
Welcome to the international embassy of Spain! (Player added remarks)
Diplomatic Relations
Edit
Nation currently enjoys diplomatic relations with (List)----
Diplomatic missions;--Europe
North America
Edit
http://
Middle East
Edit
Oceania
Nation is a member of (List)
Permanent Observer to the African Union
European Union and NATO
United Nations
OECD
UNESCO
FAO
Council of Europe
Permanent Observer to the Organization of American States
Nation is a signatory to the following treaties (list)
//We will do this bit later, just have the template up so we can do it.
Spain, (Spanish: España) or the Kingdom of Spain (Spanish: Reino de España), is a country located mostly in southwestern Europe on the Iberian Peninsula.
The Spanish mainland is bordered to the south and east by the Mediterranean Sea except for a small land boundary with Gibraltar; to the north by France, Andorra, and the Bay of Biscay; and to the west by the Atlantic Ocean and Portugal. Spanish territory also includes the Balearic Islands in the Mediterranean, the Canary Islands in the Atlantic Ocean off the African coast, and two autonomous cities in North Africa, Ceuta and Melilla, that border Morocco. With an area of 504,030 km², Spain is the second largest country in Western Europe after France.
Spain is a democracy organised in the form of a parliamentry government under a constitutional monarchy. It is a developed country with the eighth largest economy in the world based on nominal GDP.
Brief History
Edit
Because of its location, Spain has been subject to many external influences, often simultaneously, since prehistoric times. At times the country itself has been an important source of influence to other regions. Archaeological and genetic evidence strongly suggests that the Iberian Peninsula acted as one of three major refugia from which northern Europe was repopulated following the end of the last ice age. It has also played an important part in Europe and even the world at certain historic times; in the latter case when it was the seat of a global empire that has left a legacy of 400 million Spanish speakers today. The combination of external influences with the interactions of the culturally and politically differentiated regions of the rugged peninsula has produced a dramatic history, typified by alternating periods of unity and disunity under very different regimes.
Diplomatic Messages
Edit
(Please post them here)
Resources
Edit
Community content is available under
CC-BY-SA
unless otherwise noted.