The Kingdom of Norway
Flag: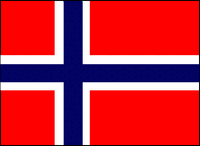 Location: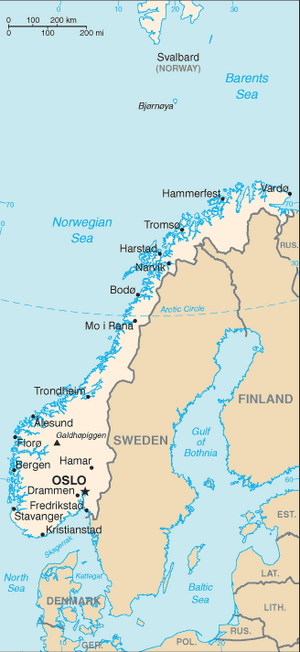 Capital: Oslo
Official Language: Norwegian (Bokmål and Nynorsk)
Government: Parliamentary democracy under constitutional monarchy
Head of State: Mikkel Johansen
Formation: 872 (AD)
Population: 4,777,100 (2008)
Currency: Norwegian krone (NOK)
¨Human Rights Record¨ Amnesty International Report
¨Territorial Disputes¨ The Barents Sea is disputed with the Russian Federation with the Norwegians favouring the Median Line and the Russians favouring a meridian based sector.
¨Ongoing Conflicts¨ As of September 2008 there are 420 troops in Afghanistan with NATO. Norwegian ISAF forces are divided between Meymaneh in Faryab province where they lead a Provincial Reconstruction Team; and Mazar-e-Sharif, where they operate alongside Swedish forces. Four Royal Norwegian Air Force F-16s operated from Kabul airport alongside Dutch F-16s in support of NATO ISAF forces in southern Afghanistan during 2006. Three Norwegian soldiers have been killed in action
Welcome to the international embassy of Norway! My country hopes that we have peace with you in the future.
Diplomatic Relations
Edit
Nation currently enjoys diplomatic relations with (List)
Nation is a member of (List)
Nation is a signatory to the following treaties (list)
//We will do this bit later, just have the template up so we can do it.
Norway (Norwegian: Norge (bokmål) or Noreg (nynorsk)), officially the Kingdom of Norway, is a constitutional monarchy in Northern Europe that occupies the western portion of the Scandinavian Peninsula. It is bordered by Sweden, Finland, and Russia, while the United Kingdom and the Faroe Islands lie to its west across the North Sea. The country's extensive coastline, facing the North Atlantic Ocean, is home to its famous fjords.
Norway has also rich resources of gas fields, hydropower, fish, forests, and minerals. Norway was the second largest exporter of seafood (in value, after China) in 2006. Other main industries include food processing, shipbuilding, metals, chemicals, mining, fishing and pulp and paper products. Norway has a Scandinavian welfare model and the largest capital reserve per capita of any nation.
Norway was ranked highest of all countries in human development from 2001 to 2006, and came second in 2007 (to fellow Nordic country Iceland). It also rated the most peaceful country in the world in a 2007 survey by Global Peace Index. It is a founding member of NATO.
Brief History
Edit
Becoming the first European nation to declare independence in the 20th century, since World War II Norway has experienced rapid economic growth, and is now amongst the wealthiest countries in the world. In the 1920s, Norway annexed Jan Mayen and was given the sovereignty over the Arctic archipelago of Svalbard under the Svalbard Treaty. The polar territories of Bouvet Island, Peter I Island and Queen Maud Land are external dependencies, but not parts of Norway.
Diplomatic Messages
Edit
(Please post them here)
Resources
Edit
Community content is available under
CC-BY-SA
unless otherwise noted.