Benjamin Brown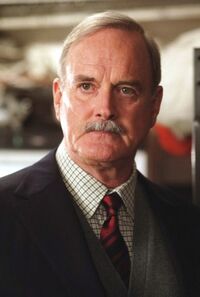 Position: Prime Minister of the Kingdom

of Great Britain and Northern Ireland
Term Start: January 5, 1990
Term End:
Predecessor: Margaret Hilda Thatcher
Successor:
Party: Conservative Party
Benjamin Brown (Born: 11th of March, 1932) is the current Prime Minister of the Kingdom of Great Britain and Northern Ireland from the fifth of January, 1990 after his predecessor Margret Thatcher had resigned a few days before.
Childhood and Youth
Edit
Benjamin Brown has been born in Canterbury on the 11th of March, 1932 as the second child of three of Charles Brown and Wilhelmina Brown (born Weedman).
He has an older sister (Pauline Palmer, born Brown, * 20th of May, 1927) and a younger brother (* 12 of September, 1935; died 2nd of June, 1942).
As an effect of a German air raid on Canterbury in 1942, he did not only loose his younger brother, but also had his right leg severely injured. This eventually resulted in a stiff knee for which he was much mocked by other children during his late childhood and early youth.