Michael Dukakis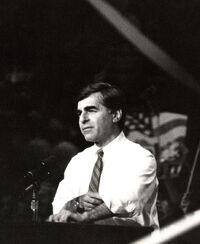 Position: Mayor of Boston 1970-1975

Governor of Massachusetts 1975-1990

Progressive Party Leader 1990-present
Term Start: October 9th 1990
Term End: Incumbent
Predecessor: Ron Brown
Successor: Incumbent
Party: Progressive Party
Michael Stanley Dukakis (Born: November 3, 1937) is the current Leader of the United States Progressive party, and former Mayor of Boston and Governor of Massachusetts in a political career that spans nearly twenty years.
Early career and family
Edit
Dukakis's father Panos (1896–1979) was a Greek from Turkey who settled in Lowell, Massachusetts in 1912 and graduated from Harvard Medical School twelve years later, subsequently working as an Doctor in one of the cities largest hospitals. His mother Euterpe (1903–Present) was a Greek immigrant from Larissa; she and her family emigrated to Haverhill, Massachusetts in 1913. She was a graduate of Bates College.
Dukakis attended Brookline High School in his hometown. The same hometown where John F. Kennedy was born. He graduated from Swarthmore College in 1955, served in the U.S. Army 1955–1957, stationed in Korea, and then received his law degree from Harvard Law School in 1960. He worked in the city as a successful trial attorney, winning a number of front line cases in the city. In 1964 he married Kitty Dukakis. And in 1967 they had one girl, - named Lauren Dukakis.
In 1970 the city of Boston was in shambles. A massive deficit was being run and the cities infrastructure and services we're crumbling. During the Boston Mayoral election, Dukakis ran on a platform of innovation and renovation. And talked about restoring the city to becoming one of Americas greatest places to live and work. Upon taking office he carried out on this promise. He instituted finance discipline and enacted a number of clean city and innovative programs to restore the city. Upon the end of his term, - a Newsweek article ranked Boston third in the nation as one of the best places to live. Residents of the city of Boston and its surrounding areas remember him for the improvements he made to Boston's mass transit system, especially major renovations to the city's trains and buses. He was known as the only Mayor who rode the subway to work every day.
Massachusetts Governor
Edit
Progressive Party Leader
Edit
1992 Presidential campaign
Edit
Political positions
Edit
Personal life
Edit