Mohamed El-Yazghi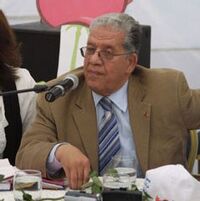 Position: Prime Minister of Morocco
Term Start: January 2009
Term End: ongoing
Predecessor: Abbas El-Fassi
Successor:
Party: USFP
The person behind El-Yazghi
Edit
The person playing this character was Bruce. This was his first character in Qpawn, and he gained a lot of experiance playing with him.
Comming to Power
Edit
After Abbas El-Fassi was elected as Prime Minister of Morocco in 2007, Mohamed El-Yazghi recieved the position of Minister of State in El-Fassi's government. Near simultaniously with the forming of the 'government El-Fassi' Mohamed El-Yazghi was elected leader of the USFP (Union Socialist des Forces Populairs). And as such he was the leader of the largest party in Morocco when Abbas El-Fassi was hospitalised early 2009. King Mohammed VI trusted him to form the new government, and his term started in that same month.
Realisations
Edit
The realisations of El-Yazghi are small in number. His main attention went to Education though, for its rate in Morocco was extremely bad at the start of his term.