Nawaf Al-Ahmad Al-Jaber Al-Sabah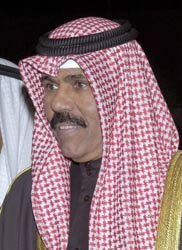 Position: Emir of Kuwait
Term Start: May 2010
Term End: ongoing
Predecessor: Sabah Al-Ahmad Al-Jaber Al-Sabah
Successor:
Party: none
The man behind Nawaf
Edit
The player currently playing Nawaf Al-Sabah is Bruce. This is Bruce's second character, as his first was Moroccan PM Mohamed El-Yazghi.
About Nawaf
Edit
Appointed as Crown Prince of Kuwait by HH Emir Sabah in 2006, his nomination at first was a bit controvesial. As normally the title of Emir swiches every time between the Al-Jaber and Al-Salem branch of the family. But later on he proved to be a worthy sucessor, who came to lead the glorious Emirate after the demise of Sheikh Sabah Al-Sabah in 2010. The late Emir hadn't been feeling to well and showed serious signs of paranoia in the last months of his reign. Aged 73, Nawaf now faces the chalenge of leading the Kuwaiti's out of Crisis and into a prosperous era.
Realisations
Edit
He first of all normalised relations with other Arab and Muslim countries, for they were seriously dented. (As could be seen in an already famous quote by Emir Sabah: "There are Syrian Missiles raining down on Kuwait!" The international community reacted fairly sober: "No they're not.")
He later signed a significant treaty with China, which would provide Kuwait with a stable oil-market in Asia.